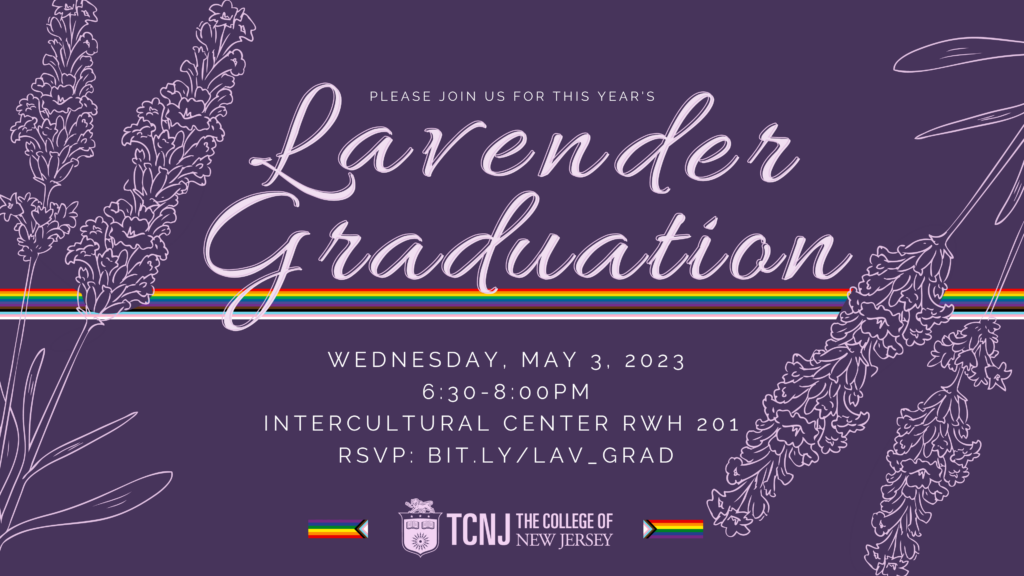 The Division of Inclusive Excellence, PRISM, and TCNJ PRIDE are proud to invite you to TCNJ's eighth annual Lavender Graduation ceremony.
Lavender Graduation is an annual event to celebrate the achievements and contributions of graduating LGBTQIA+ and allied students. It is held in addition to traditional commencement services and allows for a communal and affirming environment for graduates. TCNJ has recognized a Lavender Class for nearly a decade, and it is a pleasure each and every time.
TCNJ's 2023 Lavender Graduation ceremony will be held on May 3, 2023 from 6:30-8pm in the Intercultural Center (Roscoe West 201). Please consider joining us for a formal Lavender Class recognition, the awarding of the LGBTQ Leadership Scholarship, a keynote presentation, food, friends, and a truly fabulous time.
Any graduating undergraduate or graduate student identifying as LGBTQIA+ and who would like to attend or be recognized during Lavender Graduation may
sign up here
:
bit.ly/lav_grad