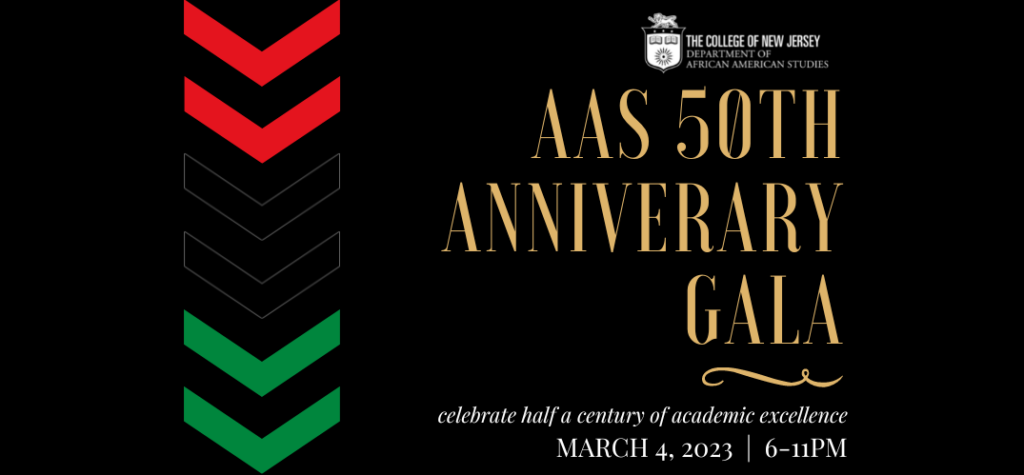 To celebrate five decades of excellence – and to help inspire the next – we invite you to the African American Studies 50th Anniversary Gala.
Across half a century of award-winning scholarship, pedagogy, service, and mentoring, the TCNJ African American Studies Department has consistently achieved and modeled academic excellence. Through five decades of struggle and success, its dedicated scholars have provided students, faculty, staff, the entire TCNJ community, and the wider public with diverse forms of service, curriculum, and discussion as thoughtful as it is challenging. Too often these achievements have gone unrecognized and underappreciated. This year marks the 50th anniversary of the Department – a significant milestone and thus the perfect opportunity to amplify this exceptional department and the individuals who comprise its legacy.
Join us for an elegant dinner and an evening of recognition, reflection, and appreciation, filled with dancing, special presentations, and joy in a space to honor Black heritage and culture. All proceeds from this event will benefit AAS students and the AAS Global Initiative
Due to an outpouring of support and interest, the Gala is now sold out. Please consider donating to the AAS Global Initiative below as an alternative. Please contact Dr. Piper Kendrix Williams at williamp@tcnj.edu or the Division of Inclusive Excellence at inclusion@tcnj.edu with any questions or special requests.
Doors open at 6:30 pm. Dinner served at 7:30pm. Formal attire required.
If you can not attend the event, there is still an opportunity for you to contribute to the Department. African American Studies wants to encourage students to study abroad strongly, but we know that many students who receive aid to TCNJ cannot afford all of the costs associated with international study, i.e.: visas, passports, luggage, clothes, and stipends. This fund would be a supplement and cover charges associated with visas, passports, luggage, and cash stipends. You can donate to the AAS Global Initiative. Funds will go directly to AAS students who apply and get accepted to the TCNJ Cape Town, South Africa Study Center.  The fund will provide an equitable opportunity for students who are accepted to the South Africa Study Center. The fund will be administered by AAS. Dr. Piper Kendrix Williams, Chair of African American Studies, has been invited to visit and review the TCNJ Study Center in Cape Town, South Africa and we anticipate that the program will be up and running for students for the 24-25 AY.
In May of 2022, the TCNJ Wind Ensemble, directed by Prof. Eric Laprade, premiered Terence Odonkor 22's original composition celebrating the department's 50th anniversary, "New Beginnings."